I feel like I haven't blogged in a long time...I know it's only been a week, but I usually don't go for so long without filling in the Internet public on my various be-boppings around this town. But there was a brief business trip earlier this week, and then also, have you looked outside? It's
summer
, people, and I'm really preoccupied with re-reading Harry Potter 6 by the pool and making every flavor of ice cream I can think of (I'm looking at you next, blueberries).
But I have been out and about, and last week I be-bopped down to Old Town to enjoy a round of seasonal strawberry cocktails, on special in the month of June at
Vermilion
.
The truly avid DC365 fan may recall that the idea for this came up back at
Thing 39
, when Jessica, inspired by my trek out to Delaplane to eat strawberry sundaes, invited me to Vermilion for a strawberry flavored cocktail or two. How could I resist?
I've been to Vermilion several times before, although never to eat. Tom Sietsema recently
raved
about the new chef there, and I would like to have a meal there someday. But generally, when I've been it's been to the bar, as it is one of the Boyfriend's friends' favorite venues. It is swank and dimly lit, with exposed brick walls, a long bar, a couple tall tables, and four booths tucked into the back, best suited for quiet conversation and a relaxed cocktail.
I was there with Jessica, who had suggested the strawberry cocktails in the first place, and to catch up with an old friend who'd moved to Texas sometime ago and was visiting. On the menu were three strawberry cocktails, along with their usual beer, wine and a rainbow of martinis. There was a strawberry
mojito
, a strawberry-rhubarb-vodka number, and a strawberry champagne cocktail, which I immediately ordered. I love
champagne
cocktails
, and this one was wonderful! Sweetened with a strawberry syrup that gave it a beautiful deep pink hue, the flavor of the cocktail was rounded out by the addition of bitters. It gave the drink a spiced flavor of clove and cinnamon that was unexpected but really delicious.
Would that I had stuck to champagne cocktails though! I ordered next the strawberry rhubarb cocktail. It came served in a pint glass, heavily watered down with ice, crystal clear but with some stewed strawberries floating within (have you tried to drink stewed strawberries through a straw?...not so much). The problem though was that the drink was
sweet
. So sweet, I tasted sweet at the back of my mouth even after I was through with dinner. I think they were trying to balance out the sour rhubarb but went totally overboard. Stick with spicy champagne strawberry cocktails instead.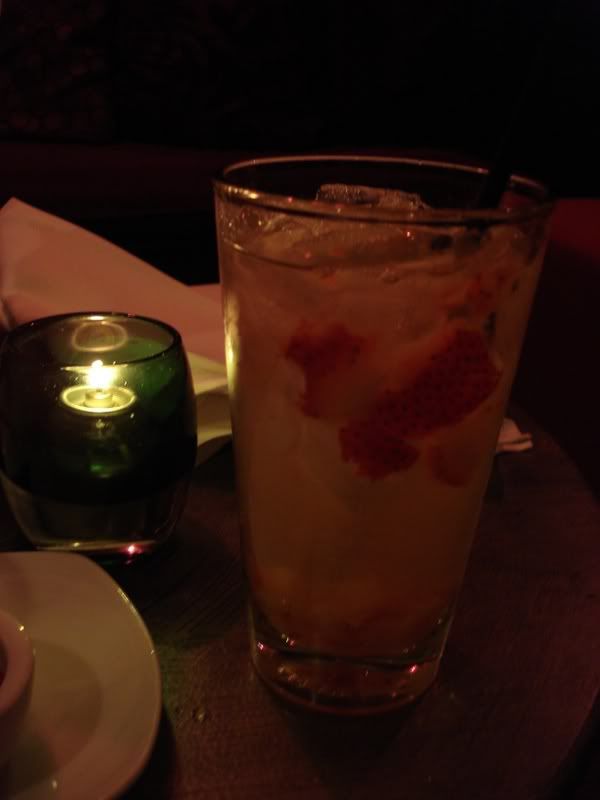 And after a couple cocktails, it was time to back up and make the rather long journey back to my place in DC (I'd hang out in Old Town more if the train ride back weren't quite so disheartening). I highly recommend Vermilion for a fun happy hour, good house wines, and tasty snacks. And perhaps someday, I'll even have a meal to report back on...