During the Heian period in Japan, the color red was strictly for the rich and royal. Laws prohibited regular people from wearing red, so they rebelled by wearing red undergarments that the authorities couldn't see. To this day, some Japanese kimonos are lined in red, a hidden burst of color, daring and sex.

This is one of the many things I learned about the color red during my excursion to the Textile Museum on Saturday. "RED" explores the meanings and significance of the color across cultures and time. Until the invention of commercial dyes, red was one of the hardest colors to create organically. It was rare and used only at special occasions, be they weddings, births or death. After the invention of chemical commercial dyes, red did not lose its appeal, and the exhibit includes modern examples of a stunning ball gown, a tiny AIDS ribbon lapel pin, and a collection of ceremonial presidential photographs.


The exhibit is not large -- it takes up only one and a half rooms -- but the collection has pieces dating back to 900 BCE, and spanning every continent, including Persian, Chinese, Vietnamese, Japanese, Afghan, Mexican, Macedonian, Peruvian, Turkish and American textiles, among others. One of my favorite pieces, a tiny, detailed piece of stitching from Persia depicts an entire folk tale of the love between a man and woman separated by a mountain. It's a small, red, 16th century comic book. A large and beautifully intricate Chinese collar was worn by a bride on her wedding day, where it was custom for the bride and groom to dress like the Emperor and his wife on that one special day. The collar, lined in a pale, faded red, is worthy of the Emperor's wife for its beauty and intricacy.

The Textile Museum of DC is the only museum in the US devoted to the textile arts. Considering its the only one of its kind, and that it's been around since 1925, you'd think I'd have heard of it. But tucked away in Kalorama at S and 23rd, in a stately but otherwise unremarkable brick house, I had no idea it even existed. Only while leafing through a booklet of area galleries did I run across it's listing.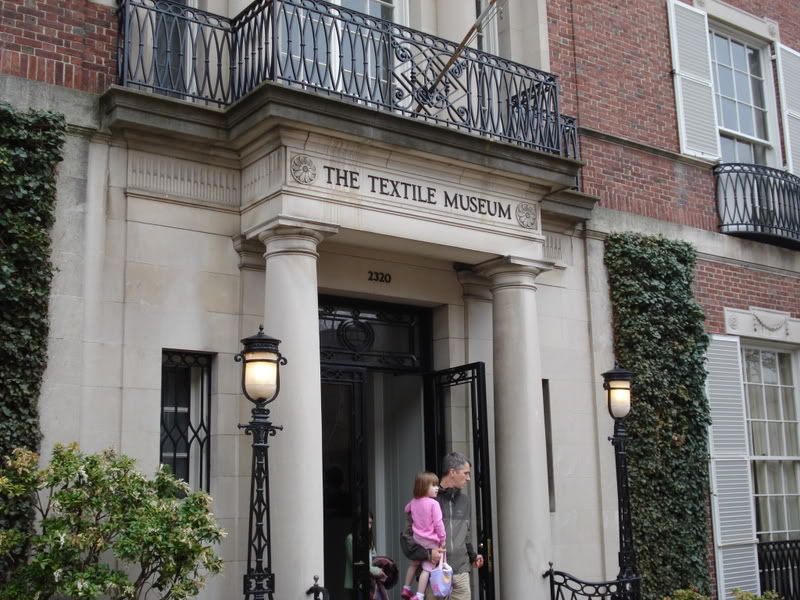 "RED" is its current exhibition, and they were in the process of setting up an exhibit of tent bands from Central Asia, which we could only see from around corners but looked equally interesting. In addition to its exhibitions, the Textile Museum features a textile learning center, where touching and feeling is encouraged (it is strictly forbidden to touch the textiles on display). It explains the language of textiles, where different materials come from, how dyes are produced in nature. It shows the difference between weaving pattern into cloth, dying pattern into cloth, or putting the pattern onto the cloth with embroidery. Through the interactive exhibit (which I imagine children might really love), the participant learns about the cultural significance of textiles, and how we learn from cultures by how they make their textiles, the colors, patterns, techniques and materials they use.

The museum also has a really wonderful gift shop, with unique bags, scarves, ties, and dolls from around the world. Excellent gifts for those who have everything.

The museum is free, though a $5 donation is suggested.