No less than seven Washingtonian "Cheap Eats" covers adorn the wall of Southside 815 in Old Town Alexandria. They are well deserved. For if you care to make the journey across the river into that commonwealth of Virginia, you are rewarded with cheap food, cheap beer, friendly service, multiple TVs and live music on Tuesdays.

I seem to be going through some sort of Southern comfort food phase, between a trip to rural Virginia last weekend (fantastic BBQ!), Georgia Brown's on Monday and now Southside's happy hour, which features plentiful and outrageously cheap oyster po' boys and pulled pork sandwiches. Mini oyster po' boys, mini pork sandwiches and mini pork nachos are all $1.50 during happy hour (Monday - Friday, 4-7). Thinking "mini," I ordered two of everything. Turns out, it was a TON of food. All the food in this picture cost me a whopping $9: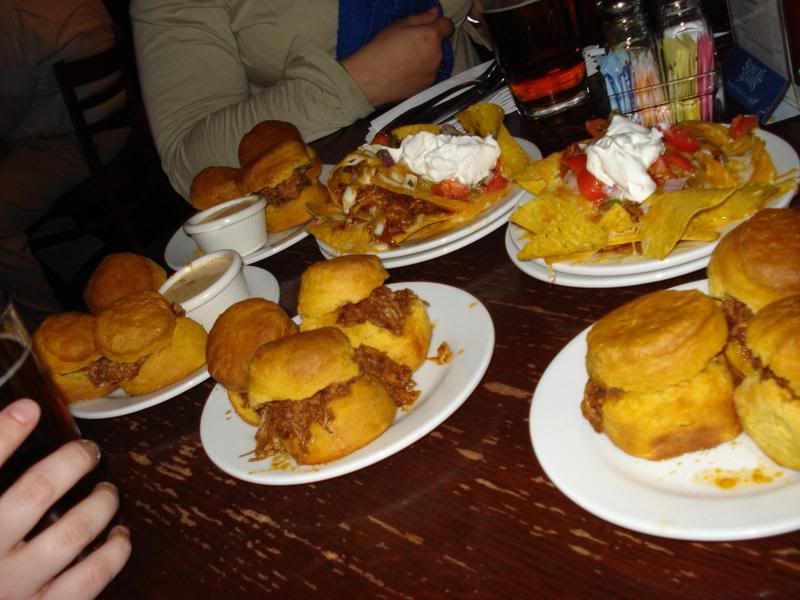 Wash this feast down with a $2 draught of Miller Lite, and it's a very happy hour.

Not only is the food cheap, but it's actually pretty good. The pulled pork is sweet and tender, the oysters in the po' boys are gigantic, deep fried with a crispy outside and soft, briny flesh. The rolls for the mini sandwiches are slightly sweet and incredibly dense. The sandwiches may be mini but they are filling and satisfying and we couldn't come close to finishing them all. The nachos became soggy very quickly, but fresh from the kitchen they are crispy and covered with melted cheese, more sweet pulled pork and a generous dollop of sour cream.

Southside 815 is half restaurant, half sports bar. My friends and I stayed strictly in the sports bar section, surrounded by TVs broadcasting March Madness. We arrived around 6, grabbed a table near the bar, ordered a round of Miller Lites and that accidental orgy of food from the bar, and got to work talking and laughing. Our bartender, Darrel, saw to it that we were well taken care of.

Around 8 the band, Smalltown, set up. The band -- one guy with a guitar, one guy on a keyboard -- began playing covers of crowd pleasers. Jimmy Buffet, U2, Eric Clapton (including the excerpt of Lola, below). They were good but unobtrusive. When we paid attention to them, we enjoyed them. When we were caught up in conversation, they didn't distract.

And so it was that 10pm rolled around, and it being Tuesday and us being working stiffs, we packed it in and got our check. After four solid hours of snacking, sipping and chatting, we each owed $23. Including a generous tip. I challenge anyone to come up with a better deal for their dollar. Seriously. If you know a happy hour that can top this, leave a comment and I'll check it out. Until then, Southside 815 has moved into my permanent rotation.